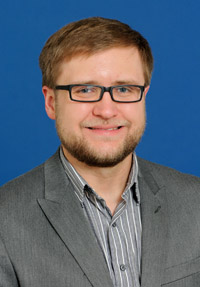 Richard is an Associate Professor of Industrial/Organizational Psychology at Old Dominion University in Norfolk, VA, USA.
His research program concerns the use of innovative technologies in assessment, employee selection, adult learning, and research methods.  Recent topics have included big data, game-based learning, game-based assessment, gamification, unproctored Internet-based testing, mobile devices, virtual reality, and online social media.
His work has been published in Journal of Applied Psychology, Industrial and Organizational Psychology Perspectives, Computers in Human Behavior, Simulation & Gaming, Social Science Computer Review, and Psychological Methods, among others, and his research and writing have been featured in Forbes, Business Insider, Science News, Popular Science, Maclean's, and the Chronicle of Higher Education, among others. He is also author of a statistics textbook, A Step-by-Step Introduction to Statistics for Business, editor of Social Media in Employee Selection, and editor of the upcoming Cambridge Handbook of Technology and Employee Behavior.
He currently serves as Associate Editor of Computers in Human Behavior, Simulation & Gaming, and the International Journal of Gaming and Computer-Mediated Simulations, and he is also part of the steering committee of the Coalition for Technology in Behavioral Science.
He was Old Dominion University's 2014 and 2015 nominee for the State Council for Higher Education in Virginia Rising Star Outstanding Faculty Award.
His science popularization blog, NeoAcademic, explores his research  interests and reports the final results of lab projects as they become available.